Sechelt Streetside Garden
Connect to Your Community
Interested in participating in the community gardens?
On the Unceded Coast Salish Territories of the shíshálh (Sechelt) Nation, Sechelt Streetside Garden is located on Ocean Avenue.
These gardens are free for everyone to harvest from! All are welcomed and encouraged to participate in the design and care taking of this shared space.
The goals of the community garden are to connect in community and offer food security, education on ecological gardening and sustainable living on the Sunshine Coast.
This garden is cared for by volunteers and is funded by the community! This initiative would love your support and there are many ways to be involved with this grassroots project.
Sechelt Streetside Garden are currently undergoing a transition from annual food gardens to perennial food gardens.  We need support with watering and weeding and doing basic maintenance while we continue this process.  If you are in the area and want to help, please feel free to lend a hand! We also have regular group volunteer sessions you can join. Please contact programs@onestraw.ca for a schedule and details.
Current Opportunities
Upcoming events:
Community Volunteer Sessions:
We regularly gather at the gardens to work on special projects and general garden upkeep. Follow us on Facebook for a schedule and details.
The gardens are run on volunteer efforts,  we invite you to pop by anytime to weed, water and harvest.
Access to tools can be provided, please bring your own gloves.
Thank you from Sechelt Streetside Garden and One Straw Society.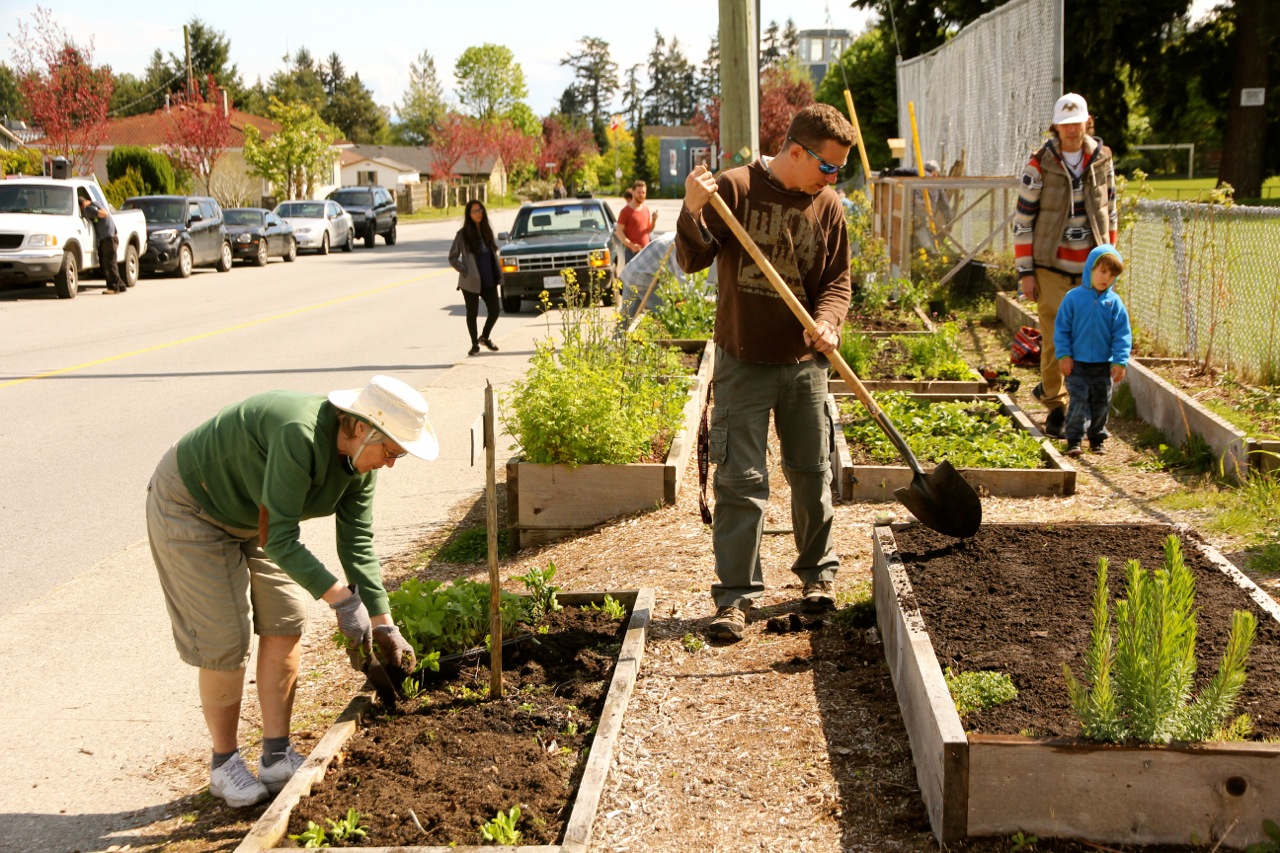 History of Sechelt Streetside Garden
After creating a garden along the street outside of his house in Sechelt, Don saw people engaging with the garden and felt inspired to create a public food growing space.
He approached the district of Sechelt and they offered him land for a lease of $1/ year to create a community garden. With the support of many local organizations, Don led the construction.
Chris Hergesheimer coordinated the gardens for the first year while Esco Goodwin created the primary design and led the installation of the first 26 beds.
In 2014, Chris stepped down and Kym Chi stepped in. She led the second phase of design with 6 more garden beds and the creation of a community cob bench led by Amanda-Rae Hergesheimer and a team of amazing natural builders.
In 2015 the gardens continued with an additional 6 garden boxes donated by the Sechelt Rotary Club.  Laura Walker joined the coordinator team and the creation of a vision for the remaining uncultivated land as a community Food Forest was created. 
In 2021 experienced chef and gardener Caitlin Allenby took over as Garden Coordinator.
Over the last several years the implementation of the new garden plan began and continues today under the guidance of new and familiar faces.
Organizations that have supported the garden include:
Thank you endlessly to all of our sponsors!
This wouldn't be possible without you!
The Sunshine Coast Credit Union, Gibson's Building Supplies, Slo, Fresh, Benjamin Paint Shop, Jim Niesch, Swanson's, The School Board, Talewind books, Kairos Botanicals, Denise Legasse, The Sunshine Coast Seed Collective, RR7 Farm, Sechelt Signs, The Heart Gardens, Maria Hunter, Pam, Gaia's Guild, Linda, Michelle, Ruby's Run, Elphinshrooms, Gaia's Fair Trade, Salish Soil, Claytons, Kym Barnett's Nursery, Fresh, The Re Store Habitat for Humanity, Rusty Hinge, 420 Hemp Store, Sun Stones, Ambrosia Health Food Store, Kindred Spirit Drums, Martin & Melodie, Coastal Animal Crafts, Halfmoon Herbals, Felt You Up, Atelier Veronique, The Blue Shoe Studio, Arriba Raw Chocolates, West Sechelt Farmer's Produce, Laurie Bloom, Kenji, Ondine Naturals, WM Terracotta Pottery, Leather 2 You, Gladiator Wild Seafood, KM Jewelry, Homestead Sheepskin Products, Shadoblix Farm, Sew Easy, Rhonda's, Sunshine Coast Salt Co., The Good Life Farm, West Coast Nuts, Christmas Tree Farm, Casa Di Maria & Jeremy, The District of Sechelt, The Rotary Club, Red Wagons Farms, Terra Tea, Wilson Creek Cedar Mill, Quality Garden, Home Hardware, B&K Landscaping, The Sunshine Coast Nursery, The Independent Grocery Store, Ann-Lynn Flowers & Gifts, The Rusty Hinge, Jean's Organics, Straight Coffee
Our Partners:
The Sunshine Coast Seed Collective
The Sechelt Library
The Open Door Group
Sechelt Youth Centre
Grow Your Own Dinner Program
Sechelt Alternative School
Arrowhead
Chatelech Secondary School
St. Hilda's Church
SCACL
Sechelt First Nations
École du Pacifique