Workshops
Learn New Skills
Upcoming Workshops:
How to Build and Maintain a DIY Greenhouse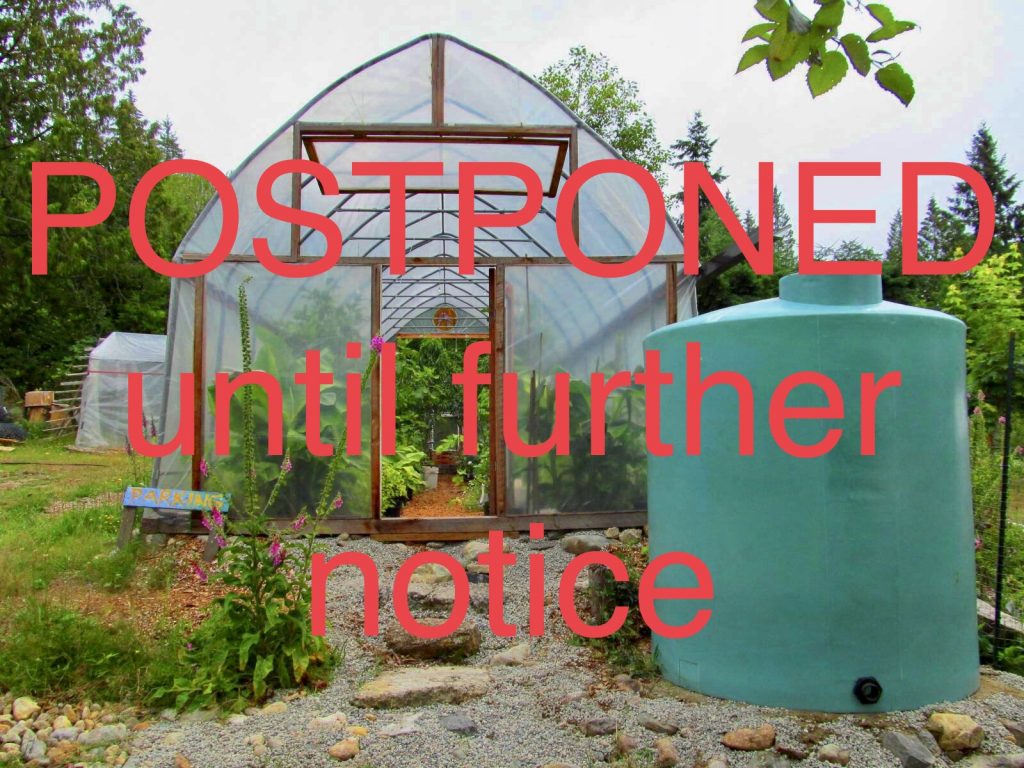 Sunday April 19, 2020
2:00PM to 4:00PM
Exotic Fruit Nursery
2546 Miles Road (off Joe Road), Roberts Creek BC
Adding a greenhouse to your garden brings many advantages. You can extend the growing season and even grow year round on the Sunshine Coast. Plants are sheltered from the elements such as wind, rain and hail. The yield of your produce can be higher in a greenhouse and plants often produce a second or third crop. Greenhouses also provide a special place to go to and enjoy on cold or rainy winter days.
Come on a tour through 5 different types of greenhouses, look at different building options including rainwater collection from your greenhouse, and learn what and how to grow inside from vegetables to fruit trees.
Workshop includes:
-tour through 5 greenhouses
-which greenhouse is right for you?
-foundation, framing and glazing materials, roof slope, climate control, costs
-types of greenhouses (attached, detached, timber frame, hoop house, shelter)
-how to organize a greenhouse (water sources, permanent/annual plantings, potting benches, beds and pathways)
Cost: Free with suggested donation of $10-20. No one will be turned away because of lack of funds.
Special instructions: Please park vehicles on Miles Road as there is very limited parking on our property. Please make sure that your clothing, gloves and shoes are clean, (especially if you are coming from another farm) to avoid disease transmission. Bring some sturdy shoes or rubber boots, rain gear and/or sunhat and gardening gloves if needed.
Presenter: Annette Clarke
Annette was born in Germany and studied geography, biology, forestry, soil science and pre-history at the University of Bonn. Since her first visit to B.C. in 1993, she was fascinated by the nature – especially the old growth forests – of the West Coast. After finishing her masters degree in 2000, she organized several ecological surveys and studies in B.C.'s wild places. She has worked on various geographical, botanical, zoological and archaeological projects during and after her university time, and taught nature courses to children and adults through her Nature Awareness Program based on the Sunshine Coast.
In 2011, she started an organic farm with her son on their 3 sunny acres in Roberts Creek, B.C. They grow their own produce, raise animals, and restore wetlands and wildlife habitats on the property. In 2015, they also started a nursery business with organically grown unusual fruit trees and planted a research orchard with over 250 fruiting trees and bushes. Produce and fruit are also grown in their 5 greenhouses.
Annette loves to share her farming experiences through workshops and talks and welcomes you to visit them and their gardens and nursery.
Pre-registration is preferred as space is limited. Please click on the link below.
https://forms.gle/ESWsb3WVd1kjuwg96
Please contact programs@onestraw.ca if you have any questions or require further information.
Looking for hands on learning experience?
We'll help you dig right into new skills. Whether it's growing, harvesting, or preserving food–or just learning more about food systems–we love helping the community learn about it.
Our workshops are an affordable and fun way to meet new (and old) friends while learning new stuff. We often do workshops, weather-permitting, outside at the Ocean Vegetables Garden.
We host workshops at many major events on the Coast, as well as throughout the year. Our former Live and Learn program has trained and empowered dozens of mentors to pass on their knowledge.
Do you have a skill you'd like to share or an idea for a workshop?
Let us know!